Rings come in various shapes and sizes. First select the style you like. We've made it easy so you can chose from five styles that can be customized to over 1,500 end designs with 10 easy steps.
A classic and timeless design that is world renowned for it's elegant simplicity. A single stone is given centre stage in this design.
This design is a Fenton favourite. The Halo is a striking and radiant design that offers great value for the impact that it commands. A single stone is surrounded by two halos of smaller stones that creates an aura of luminescence and shine.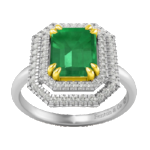 Made up of three stones, this ring is a traditional design that confers elegance and sophistication on the wearer. A round or oval centre stone is flanked by two smaller diamonds.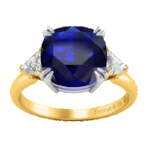 A low set, super wearable beauty, the Garland is made for both comfort and style. Three centre stones are surrounded by diamond halos to create a charming piece that is reminiscent of a floral garland, one of the most universal symbols of love.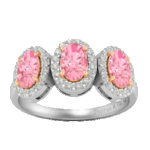 An old-fashioned style inspired by 18th century wedding rings, this is a ring that will stand the test of time. Our vintage ring has a single halo of surround stones and comes in a round or cushion cut for nostalgic charm.