We offer four different cuts, Round, Oval, Cushion and Emerald.
The Round cut is one of the most famous cuts in the world due to it's use in the classic round solitaire.

It maximises surface area making it a great choice for those who are looking for an impressive effect. This cut suits all finger shapes and sizes.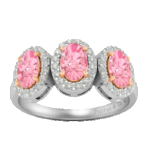 The Oval cut is known for it's elegance and is extremely complimentary on the hand, especially on those with longer fingers. It is an enduring popular cut in a number of styles ranging from the Solitaire to the Vintage and the Trilogy.
The Cushion is a stunning cut that gives a stately effect.

It is a square cut with gently rounded corners and is considered a classic cut for engagement rings. We love it in our Vintage style and also as a more unusual alternative to the classic round cut.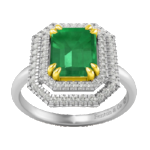 The Emerald cut is a stunning classic. Unlike the others, it is a step cut, rather than a brilliant cut which gives it a modern vintage Art Deco look.

We love the Emerald in our Halo style where it's crisp angles are shown off to great effect. Like the oval, this can be a flattering choice for those with longer fingers.